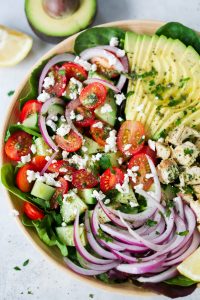 Yummy Chicken Pesto Salad 
Ingredients: serves 4
-5 Tbsp ready pesto sauce
-1/2 small red onion, thinly sliced
-400g boneless, skinless chicken breasts
-1 tablespoon olive oil
-200g green beans, trimmed
-4 small to medium zucchini, trimmed
-10 cherry tomatoes, halved
-Salt
-Freshly ground black pepper
Method:
-Place the onion in a large bowl, add 2 tablespoons of the pesto, and stir to combine; set aside.
-Pat the chicken dry with a paper towel. Generously season both sides with salt and pepper.
-Heat the oil in a large skillet over medium-high heat.
-Add the chicken and cook until browned on the bottom, 6 to 9 minutes. Flip and cook until browned on the second side for another 6 to 9 minutes. Transfer to a clean cutting board.
-Meanwhile, bring a pot of salted water to a boil. Add the green beans and cook until crisp-tender, about 2 minutes. Drain and set aside.
-Use a vegetable peeler to slice the zucchini from top to bottom into ribbons. Add to the bowl with the onions. Add 1 Tbsp pesto and toss to coat.
-Cut the chicken into 1-inch cubes. Add remaining pesto, chicken, green beans, and tomatoes to the bowl or vegetables and gently toss until everything is evenly coated. Serve at room temperature or chilled.