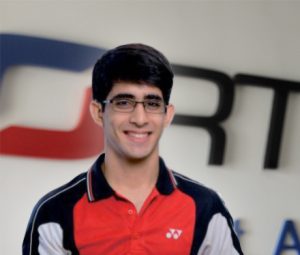 "Shuttles" from an Amateur to National and now International Badminton Star
Born with hearing loss, now a badminton sensation, Jehan Daboo is quite the inspiration.
Jehan came to Orthofit in 2009 when he was 8 years old with a low back injury suffered duing a badmington tournnament. We were able to treat him with biomechnical exercises and dispensing customised orthotics to imrpove his foot mechanics, realign his gait & posture to neutral position and got him back on the court.
Ever since then he has gone only in one direction, up, up & up…..
In 2011, at the age of 14 years, he participated in the World Deaf Badminton Championships, the youngest player to participate and he ended up winning a silver medal and getting selected to play for India!
He's played for India four times after that, and in 2015, won a bronze medal for India in the Men's Singles at the World Youth Deaf Badminton Championships.
He was a part of the Indian Deaf Badminton Team for 23rd Deaflympics held in July 2017, Samsun, Turkey…
(Reference: https://yourstory.com/2017/05/jehan-daboo/)
This is what Jehan Deboo has to say
"Orthofit is a fantastic Clinic. Not only have they helped in the treatment of my injury but they have also enhanced my performance. Their practice is comprehensive and dedicated to deliver results. I have always been happy with their evaluation and treatment. Mr.Chaitanya Shah has always helped & I am grateful to him & his team at Orthofit."
He was fortunate enough to have supportive parents who ensured he never felt out of place.
We are happy that we have been part of his success story. He came to us with a lower back injury which he suffered during a badminton tournament. We were able to help him with Orthotic corrections in his footwear and Biomechanical exercises. He not only overcame his lower back injury but we also helped prevent further injury. And we can proudly say that the Orthotic corrections enhanced his performance.