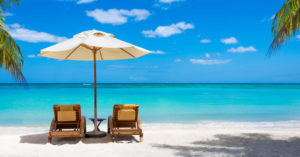 Taking a long break from your workouts can undo or dampen all your weight loss efforts. Holidays are a good time to explore outdoor activities. If you are planning a trip longer than a week, follow these tips DEPENDING UPON THE TYPE OF PLACE YOU ARE VISITING:
Beach: Jog, play volleyball, SWIM.
Park: Go cycling.
Lake: Go kayaking.
Forest: Take a nature walk.
Mountains: Go trekking.
City: Walking city tours.
Plan your activities in advance.
Carry your gear accordingly.
Use the hotel gym for at least 1 session in 10 days or do body weight training in your room, carry a resistance band.
Don't forget to book an appointment at the spa!
Caution: Suddenly overdoing a new activity can lead to soreness, injuries. Go slow if you are not accustomed.
It makes good sense to watch your diet too. Keep enough protein, fat and fibre options handy. When starchy or fruity carbs are unavoidable, stick to single serve in the first part of the day. Alcohol must stay within limits; not to exceed 1 unit for women and 2 for men per day considering you are not suffering from any major metabolic disorder.