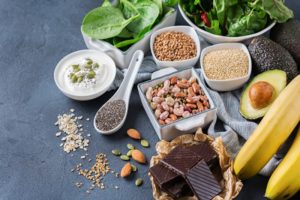 -Creation of ATP, the energy molecules of your body
-Formation of bones and teeth, working synergistically with calcium
-Cardiovascular function and lowering of blood pressure
-Nerve impulse conduction
-Muscle contraction
-Co factor in several reactions in the body
-Regulation of blood sugar levels
Sources:
Green leafy vegetables like spinach are excellent sources of magnesium, as are some beans, nuts and seeds, like almonds, pumpkin seeds, sunflower seeds and sesame seeds. Avocados are also a good source.
It's important to maintain the proper balance between magnesium, calcium, vitamin K2, and vitamin D.
Recommended intake: 300-400 mg per day.