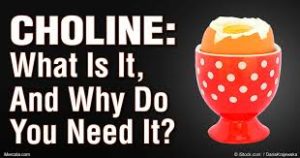 A naturally existing pseudovitamin that takes part in many physiological reactions in the body.
Benefits
-Heart health: reduces homocysteine
-Nervous system: neurotransmitter acetylcholine, memory and cognitive function
-Lipid metabolism: cholesterol regulation
-Biochemical reactions: methylation, works with B12 and B6, DNA synthesis
-Cell membrane structure and signalling
Humans can produce choline endogenously in the liver, mostly as phosphatidylcholine, but the amount that the body naturally synthesizes is not sufficient to meet human needs. As a result, humans must obtain some choline from the diet. Deficiency can cause muscle damage, liver damage, and nonalcoholic fatty liver disease. However this is are if you consume choline rich foods.
Sources:
Found in foods such as liver, muscle meats, fish, nuts, beans, peas, spinach, wheat germ, and eggs.
Dosing:
Adequate Intake (AI), as established by the Food and Nutrition Board of the National Institute of Medicine, for adults is 550 mg per day for men and 425 mg per day for women. Supplements are usually not required.