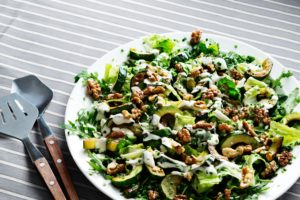 #Summertime is #salad time!
Ingredients-1 serve
Dressing:
• ½ tbsp olive oil
• 3 tbsp mayonnaise
• ½ tsp lemon juice
• ¼ garlic clove
• 1⁄8 tsp salt
• 1⁄10 tsp chili powder
• ¼ tbsp olive oil
• salt and pepper
Salad:
• ½ zucchini
• ¼ head of  lettuce
• 1 tbsp finely chopped fresh spring onions
• 3 tbsp chopped walnuts or pecans
Instructions
In a small bowl, whisk together all ingredients for the dressing.
Split the zucchini length-wise and scoop out the seeds. Cut the zucchini halves crosswise into ½ inch pieces.
Heat olive oil in a frying pan over medium heat, until it simmers. Add zucchini to the pan, and season with salt and pepper. Sauté until lightly browned but still firm.
Trim and cut the salad. Place the lettuce, spring onion in a large bowl.
Stir in the cooked zucchini.
Roast the nuts briefly in the same pan as the zucchini. Season with salt and pepper.
Spoon nuts onto salad, and drizzle with salad dressing.
Garnish with cheese (optional).