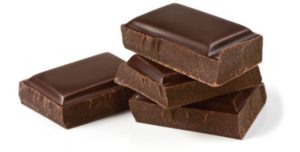 The flavanols (procyanidins & epicatechins) act as active antioxidants; the kind of plant phenols that help in reducing blood pressure, clotting and thus risk of heart disease.
It may have a beneficial effect on cholesterol levels because it consists mainly of stearic acid and oleic acid. Stearic acid is a saturated fat, but unlike most saturated fatty acids, it does not raise blood cholesterol levels. Oleic acid, a monounsaturated fat, does not raise cholesterol and may even reduce it.
Contains iron, magnesium, copper, manganese, potassium, phosphorus, zinc and selenium.
Elevates mood through the serotonin and endorphin systems.
May protect skin from sun damage and premature aging.
May improve insulin sensitivity.
Boosts brain function.
Look out for:
70% cocoa and above.
Made from cocoa butter instead of 'hydrogenated' or 'partially hydrogenated' oils.
Little or no added sugar (< 20%).
Avoid alkali treated varieties if possible