EDGE Diabetic Insoles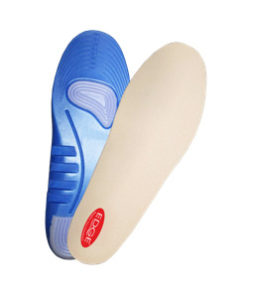 Unique features offered by Diabetic Insoles
Anatomically designed for Sensitive feet
Shock Absorption
Comfort
Protection
Shear Reduction prevent / reduce
Infection
Ulceration
A Plastazote Foam Top Cover, which reduces friction and cushions sensitive feet layer is combined with Ultra-cushioning polyurethane(PU) bottom
Benefits of EDGE Diabetic Insoles
Reduces Leg Fatigue and Aches
Minimizes Edema
Protects Feet and Lower Legs
Promotes Blood Circulation in the Lower Legs
Regulates Foot Temperature
Minimizes burning and tingling sensation
Protect Feet and Lower Legs
Improves Blood Circulation at Foot, ankle & Calf
Controls Foot Temperature
Prevent from further degeneration of foot & ankle
Perfect fit for people living with diabetes, arthritis and other medical conditions, even those who want comfort to their feet
EDGE Diabetic Insoles ESSENTIAL FOR THOSE WITH:
Plantar Sensitivity / Ulceration
Reduced Plantar Fat pad
Peripheral Neuropathy
Rheumatoid Arthritis
Burning & Tingling in the sole
Lack of Sensation in Feet
Calluses & Corns
Edema / Swelling
FAQ'S EDGE Diabetic / Therapeutic Insole
What are EDGE Diabetic Insoles?

EDGE Diabetic Insoles is a truly unique device that has revolutionised insole technology for the benefit of 'at-risk' diabetes. They are designed to alleviate any foot pain related to diabetes, are light weight, resilient and provide unmatched cushioning and support. They are used to cushion the foot, absorb shock and fit.
How do EDGE Diabetic Insoles work?
They help prevent over-pronation and evenly distribute body weight over the entire surface of the foot, thereby reducing friction and pressure
Provide Medial & lateral stability for ideal biomechanical balance
Reduce joint stress
Provide shock absorption & comfort all day
What are the features of EDGE Diabetic Insoles?
Offers superior shape retention
Heat moldable and easily ground to finish
Fits perfectly in extra depth shoes
For low to moderate levels of activity
Best suited for people of a light to healthy weight
Holes on the Insoles for ventilation
Would EDGE Diabetic Insoles help my diabetic foot treatment?
This insole is designed to minimize the risk of pressure points on the under surface of the foot which helps to avoid pressure sores from developing as a result of friction inside the shoe.
What are EDGE Diabetic Insoles ideal for?
Plantar Sensitivity / Ulceration
Reduced Plantar Fat pad
Peripheral Neuropathy
Rheumatoid Arthritis
Burning & Tingling in the sole
How are EDGE Diabetic Insoles beneficial?
They provide Ultra Comfort & Therapeutic Benefits
Protect Feet and Lower Legs
Improves Blood Circulation at Foot, ankle & Calf
Controls Foot Temperature
Prevent from further degeneration of foot & ankle
Perfect fit for people living with diabetes, arthritis and other medical conditions, even those who want comfort to their feet
How many sizes are available?

They come in 5 sizes. They can be trimmed to length but please be careful and follow the enclosed instruction. If too wide for your shoes, go down a size.
What material is the Insole made of?
A Plastazote Foam Top Cover, which reduces friction and cushions sensitive feet layer is combined with Ultra-cushioning polyurethane(PU) bottom . The anatomically designed footbed, with longitudinal arch support, uses your own body heat to mold the insole and evenly distribute weight.
Does the use of Diabetic Socks reduce Diabetes or Blood Sugar Levels?
The EDGE Diabetic insoles are a "DIABETIC FOOT CARE" product and do not cure Diabetes or control the progress of diabetes or mitigate the symptoms of Diabetes.
 I am not diabetic. Can I still wear the EDGE Diabetic Insoles?
You can use EDGE Diabetes Insoles as they reduce Leg Fatigue and Aches, minimize Edema, promotes blood circulation in the lower legs and also for their therapeutic benefits. Recommended for people with Arthritis
What is the benefit of the Active Gel Pad?
The Active Gel Pad reduces joint stress, provide shock absorption and comfort all day
Can I wash the insoles?
The insoles are not machine-washable. To clean insoles, simply wipe them with a warm soapy cloth. Dry them before putting them back into the shoes.
How long will my insoles last?
Replace the insoles when they are showing signs of wear.
How can I dry the insoles if they are moist?
If the insoles are moist, we recommend removing them from the shoe and drying them off with a paper towel. If the insoles are damaged by moisture, we recommend not using them further.
Can the insoles be worn without socks?
The insoles can be worn without socks. But we recommend wearing socks which help prevent the feet from getting sweaty.
Can the insoles be worn with orthopaedic/orthotic insoles?
The insoles are not made to compensate for foot position or posture but rather to improve the comfort in your shoes. They should not be worn at the same time.