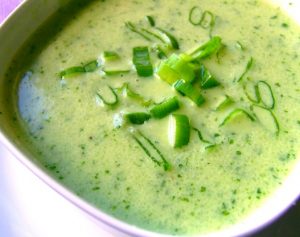 Who says we can't have soups in summer? We have them chilled!
Ingredients: 2 servings
2 cups diced honeydew melon
1 cucumber (seedless), peeled and diced
1 small onion, diced
1 avocado – peeled, pitted, and chopped
1 jalapeno pepper, seeded and coarsely chopped
1 clove garlic, chopped
1/4 cup white balsamic vinegar
1 tablespoon lime juice
salt and freshly ground black pepper to taste
Method:
Blend honeydew melon, cucumber, onion, avocado, jalapeno pepper, garlic, white balsamic vinegar, lime juice, salt, and black pepper in a blender until smooth. Adjust seasonings if desired and chill before serving.